Meditation Class

Meditation in its many forms has been practiced for thousands of years as a means to calm and focus the mind. Come and discover how to meditate. Explore another dimension of your being and experience the health benefits of a regular meditation practice.
Studies show that meditation reduces chronic pain, helps regulate your emotions, improves sleep, boosts immune function and is an antidote in dealing with the many stresses in our lives.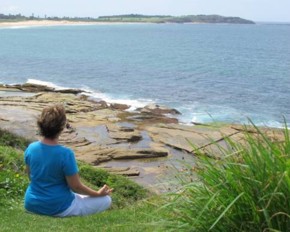 A Dru Meditation class includes:


an activation to shake off everyday stresses


gentle yoga moves to release energy blocks


complete body relaxation


a meditation
To express your interest please send an email.

Dates: Yet to be decided.
Time: Monday evening 7.30 - 9.00 pm.
Place: Collaroy Plateau.
Cost: $18 per class if booked in for the term. $20 per class for casual attendance.
Small classes with individual attention. Invest in yourself and feel the difference.
Bookings are essential.

Feedback from students:
It improved my ability to balance my work and home life and not feel so stressed about work. The classes gave me some simple practises, which are fast and easy to do anywhere, in dealing with stress. Wonderful teacher and style, I really enjoyed the classes. Karen, Managing Director, Elanora Heights
I found the breathing and focusing techniques were a real life saver as I trained intensely for a 300km cycle around Samoa. Jenny, Account manager, North Manly
I loved all the different types of meditation. The course gave me tools that I can use throughout my day. I've been feeling generally less stressed, less emotive and stronger.
I've experienced more moments of inner peace. Kathy, Nurse, Allambie Heights
I've learnt the value of the breath as a calming and focusing tool and that small moments of silence and quiet are very important and have quite an effect. A door to living the moments of each day on another plane, leading to contentment, unexpected feelings and much to value by simply being alive. Julia, Manager